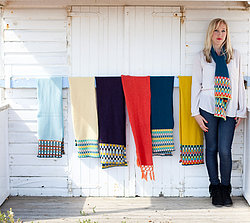 Designer Gabrielle Vary spins traditional handmade design techniques with modern, fresh ideas, specialising in knitwear with a particular focus on fashion and interior accessories.
Based near the creative hub of Brighton, Gabrielle draws on themes such as memory to inspire her creative designs, expressing a love of pattern and colour. Her collection spans a whole range of beautiful, unique and handmade items ranging from blankets, wraps and scarves to cushions, hot water bottle covers, hand warmers and socks.
Each piece is lovingly made by hand using a domestic knitting machine with unsurpassed attention to detail and quality. All the handmade pieces are originals, designed, knitted and finished by hand to make each item absolutely unique. Gabrielle uses only the finest cashmere and lambswool, combining to create the ultimate in luxury, design and feel.