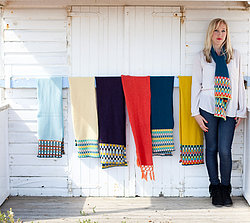 Designer Gabrielle Vary spins traditional handmade design techniques with modern, fresh ideas, specialising in knitwear with a particular focus on fashion and interior accessories.
Based near the creative hub of Brighton, Gabrielle draws on themes such as memory to inspire her creative designs, expressing a love of pattern and colour. Her collection spans a whole range of beautiful, unique and handmade items ranging from blankets, wraps and scarves to cushions, cardigans and ponchos.
Gabrielle's bright and beautifully patterned collection is sure to keep you warm and snug, whether on a cool summers evening or in the middle of a chilly winters day, wrap up in the beautifully soft lambswool to keep you extra warm and cosy. The clever use of colour combined with a keen eye for detail and design ensures each piece is a real investment that will last for years to come.
Each piece is lovingly made using a vintage knitting machine in her studio in Sussex with unsurpassed attention to detail and quality. All the pieces are originals, designed, knitted and finished by hand to make each item absolutely unique. Gabrielle uses only the finest British spun lambswool, combining to create the ultimate in luxury, design and feel.