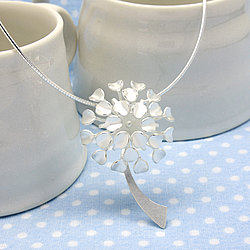 Gabriella Casemore is a British designer and maker of distinctive contemporary silver jewellery, which she creates in her studio in Hove.
Her collection is inspired by her endless fascination with the intricate repetitive elements found in flowers, which naturally lend themselves to being stylised into beautiful jewellery designs. Her love of vintage printed textiles also influences her highly original style.
'After making stylised drawings from the flowers, I design by playing with layers and folds of tissue paper. I then use traditional and modern techniques to translate the designs into sterling silver to see how the beautifully reflective qualities of the metal change the feel of the pieces.'
Very popular with women of all ages, this bold jewellery looks stunning with elegant evening wear and daring necklines, but is versatile enough to also be comfortably worn during the day.
All Gabriella's jewellery is finished to a very high standard and comes beautifully presented in her own dark grey jewellery gift boxes.