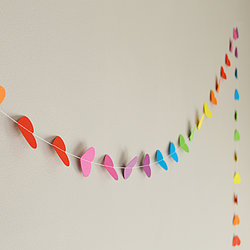 Over the last 3 years, Funky Frills UK has had the great honour of developing paper garlands for all your wonderful celebrations and home decor.
I make a large range of paper garlands and paper bunting, small and large, and I'm always adding to the collection. There will always be something that will work for your celebration, or maybe you'd just like to have that little finishing touch to your child bedroom, or that romantic evening ;)
Take a look through the shop, I'm sure you'll find something that you just can't do without :)
All my garlands are hand made by me, and I'll always try to make them as perfect as possible for you :)
Many thanks for taking the time to read about me and my shop.
Abby x