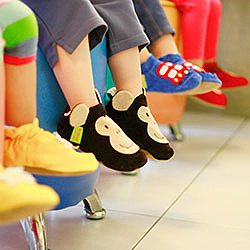 Based in the rolling Shropshire hills of England, we design and hand-make a baby, toddler and children's collection of soft fabric footwear, hats, cushions, bunting and personalised gifts that can only be described as, well, funky!
Every single piece is lovingly handmade, just for you, right here in the UK by our very own small team of highly skilled local seamstresses.
We source and use only the finest quality materials and pay the closest attention to detail in everything we produce.
For over 15 years we've been bursting at the seams with fun, creativity and imagination, and our range is now loved all over the world by children and adults, alike.