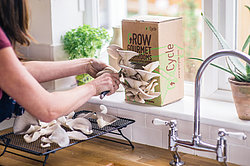 Fungi Futures CIC (trading as GroCycle) is an award winning social enterprise pioneering the growing of Oyster mushrooms from waste coffee grounds.
We love the simplicity of the idea, and want to involve, educate and inspire others too.
So why not have a go? Try one of our Grow Your Own Mushrooms Kits and grow your own delicous fresh Oyster mushrooms at home in just 14 days.
The kits are made at GroCycle Urban Mushroom Farm in Exeter, where we collect hundreds of kilos of waste coffee grounds each week from the city's cafes, using it as the compost in our kits. Each kit is part-grown before being sent out, to ensure it is super easy to grow the mushrooms when you open it.
It takes just fourteen days until the first harvest of your very own beautiful, tasty Pearl Oyster Mushrooms. A wonderful gift for all those that love growing and eating their own gourmet produce.
We operate as a non-profit social enterprise, so thanks for supporting our work!