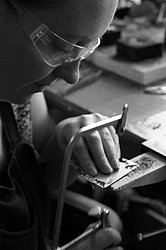 Specialising in Sterling Silver Jewellery, Fragment Designs is based in Caerphilly, Wales and is the brain child of Sarah-Jane Egan with a little help from her adorable house rabbits. A former Physics teacher and a resolute animal lover Sarah has three main ranges, Botanical, Constellations and Silhouettes.
Her Botanical range features a series of beautiful wedding rings available in silver or gold and accompanied by earrings and cufflinks, the pieces can be textured with Oak, Ash, Grape or Fern leaves.
The Constellation range features pendants, key rings, cufflinks and earrings and is based around the stars of the night sky, with all items dispatched including an information card outlining some of the mythology, history, astrology and science of the particular constellation .
The Silhouette collection on the other hand features intricate saw work where silhouettes have been hand sawn from sterling silver sheet, currently it includes pendants, keyrings, bracelets, cufflinks and earrings.
All pieces are designed and made by hand in Caerphilly, and I use British suppliers for all my sterling silver, chains, and packaging.