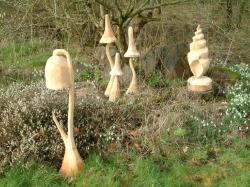 Living in rural Devon, we have a family business which is made up of a mother and son team. We will put our hand to almost anything, as long as it is made out of wood and is a bit different. We make a range of wooden garden ornaments, all designed to be a bit of fun, but we also undertake commissions for specialist orders.
All our raw materials are bought locally and we farm our land traditionally using shire horses. Ben is also skilled in traditional woodland crafts and is passionate about the countryside. We are passionate about the future of the countryside and in particular British woodlands and our woodland craft heritage and skills base.
These unique mushrooms and wooden sculptures act as a wonderful talking point. They introduce a sense of fun to the garden and bring to life those dark or forgotten corners. Mostly carved out of cedar or redwood, these wooden products contain naturally protective resins which have incredibly durable properties and so will last for many years. The mushrooms and toadstools can be left to mature naturally or simply oiled with a clear preservative or teak oil to bring out the wonderful grain patterns of the wood.