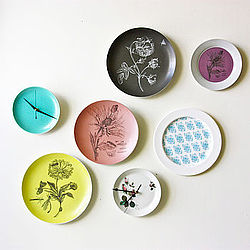 Sarah Haines founded For All We Know to follow her creative ambitions and to allow her to make art prints and decorative ceramics. Sarah moved from rural Essex to London to study at Chelsea School of Art & Design in the late 1990's. Following a successful year at Chelsea she undertook her degree in Interior Design and went on to study Stustainability at Kingston.
Sarah creates thoughtful and charming prints and products that bring a breath of the wilds to our urban and suburban lives. Mixing old and present day imagery, song lyrics and slogans to create limited edition silk screen prints and unique beautiful up-cycled decorative ceramics.
Celebrating all things salvage the pre loved and upcycled botanical ceramics range are applied with illustrations by specialists in Staffordshire's Potteries. The ceramics are produced in small batches and in limited runs where they are re-fired and decorated to enjoy now and for years to come.
Gorgeous gifts for the fashion, design and eco concious!