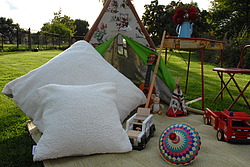 Flugs started in October 2006, when my youngest son Alfie started school and I made a jungle camoflage rug for my three boys. This proved so popular with them and their friends, particularly when my eldest son took his Flug off to prep school, that I decided to turn it into a business. Now, from my workroom in Suffolk, I make rugs and giant floor cushions in fun and funky fleece fabrics in a great range of designs.
Flugs are perfect for curling up with on the sofa, taking in the car on long journeys and even better for making dens with!
The cushions are great for dens, playrooms and bedrooms where they make great ammunition in a pillow fight!