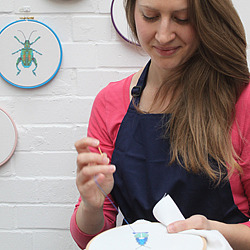 Floss & Mischief started because of an argument about taxidermy! Genevieve's boyfriend wanted to fill the house with on-trend stuffed and mounted insects, but she put her foot down as it's just too creepy. As a peace offering she designed and stitched some cross-stitch beetles for him.
Today Floss & Mischief still rocks the taxidermy trend, and our stylish needlework collections keep growing. From our Cotswolds HQ, we create trendy needlepoint patterns that get people stitching and put a modern twist on needlework.
We especially like needlework designed for quick success. That's why our cross-stitch projects build your skills, take you on a stitching journey and keep you happy.
Happy stitching, mischief maker!