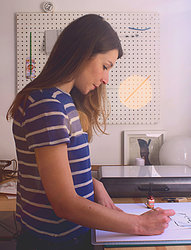 Floss and Co. is a growing range of illustrated prints for children and grown-ups.
Lottie Maddison founded Floss and Co. in May 2014.
Lottie is a freelance illustrator; her work reflects her personal style, impeccable eye for detail and love of colour, mark making and all things offbeat and charming!
All elements in Lottie's illustrations have been hand crafted - using blotted line, watercolour, collagraphs and cut-out techniques; the detail of which is captured beautifully on fine-art matte paper, using archive quality inks.
The Floss and Co. range includes limited edition, personalised and special occasion artwork.
All products are printed in the seaside town of Tynemouth, Newcastle-upon-Tyne.