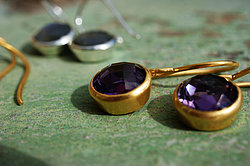 Combining travel with an obsession for antique jewellery crafts, Flora Bee have sourced a range of beautiful gem stones from Africa, Asia and Central Europe. During our journeys we were drawn to develop a selection of jewellery that reflects the exotic variety of culture which then infuenced our own contemporary design skills.
Flora Bee now work together with a team of highly talented Gem Cutters and Silversmiths and have produced a collection combining gorgeous semi precious stones with a mixture of silver, gold plate and pearls.
Our items have been designed in a variety of styles from the simple to the more dramatic.
All jewellery will be delivered in a pretty complementary handmade pouch.