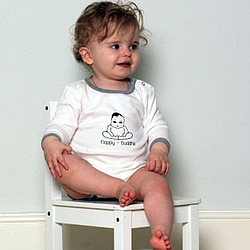 Floppy-buddha baby wear has some lovely, fun and modern prints with a mix of scandinavian and asian nostalgia featuring curious discovery prints.
When I had my two children, they become the inspiration for my baby character 'floppy-buddha'. They used to gulp the milk which made them go floppy. With their stomach full, legs crossed and rosy cheeks, they became little floppy buddhas. From there on it was a natural progression to develop a small collection of eco friendly baby wear.
Floppy-buddha is a curious and cheeky urban baby character that lives near the lush and lovely Foxball park. This is where she hangs out with her friends, buddies and pals. Her world is rich in imagination, filled with animals, flowers and patterns. Floppy-buddha's universe is the inspiration to the eco friendly baby wear collection.