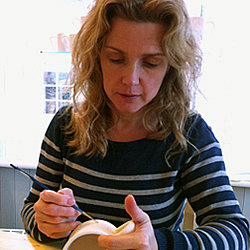 Hello, my name is Rachael White. I studied Fashion and Textiles at Leeds University, graduating in 1996 with a first class honours degree. In 2005 I established fired arts and crafts, a ceramic buisness run from my family home . I draw inspiration from the many places I visit and in particular the beautiful Minster town of Southwell in Nottinghamshire, where I live and work.
I produce hand-painted ceramics for all occasions including birthdays, weddings and anniversaries, all of which can be personalised. I have also created my own unique ranges of tableware.
The bisqueware is hand made by a local supplier in Nottinghamshire. I then hand-paint and glaze every item. The final process is the kiln firing, where the pot takes on its own identity. The whole process from the moulding of the bisque to the glazing is very organic; meaning the end product always has slight variations. No two items are exactly the same.
I hope you enjoy shopping at fired arts and crafts.