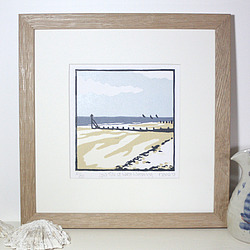 Fiona Carver has been creating things since she was a tiny girl when her artist grandmother would encourage her to draw elaborate chalk pictures on her kitchen floor. She studied Design and Applied Arts at Edinburgh College of Art, combining her love of drawing and painting with three-dimensional disciplines such as furniture and ceramics. She now pursues this interest in both flat and more hands on work through lino printing, enjoying the different stages of drawing, gouging lino and inking up and printing.
Her beautiful collection of lino cut prints are inspired by the simplicity of old seaside railway posters as well as the atmosphere created by coastal artists such as Sir Kyffin WIlliams. They have a nostalgic feel with clear lines, compositions and colours that evoke memories of British coastlines. Each lino is carefully hand cut and printed with up to 6 blocks being used for each picture. They are limited to editions of 50 and each one is signed and numbered.
Fiona's charming personalised name prints are perfect as christening, flower girl or new baby presents. They are carefully printed and personalised to order with the name of your choice and come in a range of designs for little girls and little boys.
Everything is lovingly hand made by Fiona in her little studio near Rutland Water. When she isn't drawing, painting and making things, Fiona enjoys countryside walks, swimming in the cold British sea and indulging in cooking and craft books.