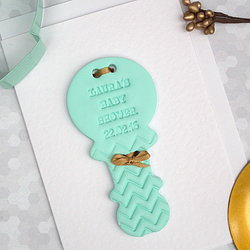 Inspired by the special moments in life...and the loved ones we share them with, our range of personalised gifts has been thoughtfully designed and handcrafted by our small team of makers.
Using our signature polymer clay for each piece, and presented in a gift box or organza bag they come with a written tag explaining the story behind our name..and a proverb to inspire & encourage.
Made by us in London, each one truly is an original. We are passionate about customer service and truly hope each piece will bring you joy...and perhaps a little splash of colour.
***News*** Fingerprints X Mrs Brown = gorgeous edible gifts.
We are delighted to announce our new collection of edible treats. In collaboration with Mrs Brown, makers of exquisite sweet treats, we have a limited collection of gorgeous personalised chocolates and cookies now available to order. Each is packaged with our signature clay keepsake gift tag.
To see our jewellery collection, please visit www.notonthehighstreet.com/fingerprints