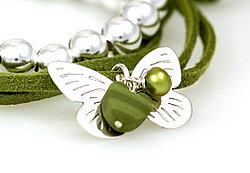 Fingerprints jewellery is a stunning, colour-driven range of contemporary jewellery and accessories with a classic but quirky twist.
Each piece is made by hand, with much love, using carefully hand-crafted polymer clay beads, sterling silver, semi-precious stones, freshwater pearls and leather.
Fingerprints began in 2002 and our range of jewellery and gifts has grown to include gorgeous pieces for all ages and includes treasured gifts to mark many of those important life events.
Designer, Tabitha, works with a small team of makers. We are a friendly, family business and have lots of fun in our studios in London... making jewellery that we hope you will love wearing...and gifts we hope you will love giving!
Packaged beautifully, every piece of jewellery comes with a tag with a message that explains the story behind our name..and a proverb to inspire and encourage.
FOR OUR COLLECTION OF ACCESSORIES & KEEPSAKES PLEASE SEE OUR GIFT STOREFRONT: www.notonthehighstreet.com/fingerprintsgifts