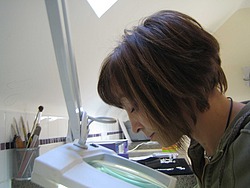 Here at FingerPrint Jewellery, we pride ourselves on leading the market with our high quality innovative designs & creating beautiful, individual pieces of jewellery and keepsakes in silver.
By using a combination of traditional jewellery making techniques and modern metal technology, we produce bespoke, handcrafted gifts that you will treasure for years to come, the centre piece of each, your or your child's unique fingerprint, handwriting, footprints or artwork.
On placing an order, we will dispatch an impression kit (or kits) for you to take prints with at home. There are different kits for our FingerPrint and Ten Tiny Toes ranges, but both contain full instructions, and are quick and easy to do. For our Little Picasso range, no kit is needed! You can simply scan and email, or post (a photocopy please!) your child's drawing straight to us - the email address is provided on acceptance of your order.
Please check out our full range of jewellery, and we look forward to receiving your order!
Don't forget to check out our new shop for our Twisted Typist too, just search the name for the complete range of jewellery Inspired by quirky, vintage typography, The Twisted Typist brings you a fantastic collection of unique, personalised jewellery, all handmade in a jewellery studio housed in a wonderful old Victorian Fire Station, in Biggleswade, Bedfordshire!