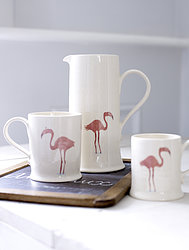 It was Fenella's Nana Adelaide who first nurtured her love and passion for ceramics. Nana Adelaide had a wonderful collection of ceramics which Fenella would gaze at through the cabinet glass as a child. Upon her passing, Nana Adelaide gave those ceramics to Fenella, and it was this moment that lit the fire of inspiration for Fenella to create her own unique range of ceramics for others to love and cherish.
Each of Fenella's products is inspired by a memory or experience, from her outdoor adventures with her brothers as a child, to her love for animals, particularly her two dogs; her beloved Labrador Bramble, and Fox the crackers rescue Border Collie.
Each of Fenella's ceramics are lovingly made using traditional slip-cast methods and from the finest clay. They are then hand finished so that each item is unique and has a lovely handmade feel.
In addition, Fenella draws on her father's experience as a printer to help create her stunning stationery. Ranging from Notelets to Christmas wrap, every item is made on FSC accredited paper.
The more recent fabric range was a natural progression for Fenella, who did a fashion degree. Once the ceramics range was established she began to play around with some prototype products. All of this has now led to her wonderful range of fabrics, spanning tea towels to make-up bags, in a wide variety of designs.
Fenella also works closely with her brother Greg, an award winning illustrator and animator, to bring each of her unique and quirky characters to life.
Fenella's collections make the perfect gift for your friends and loved ones, or you could collect them for yourself – the perfect addition to any kitchen dresser.
In addition, Fenella's collections make a great alternative choice for wedding, christening and even corporate gifts.
AS SEEN IN The Sunday Times, Good Housekeeping, Country Homes & Interiors and The Independent.