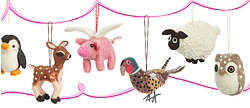 Our gorgeous range of products are individually handmade, ensuring each item is of a high quality. The results are the innovative and funky products that you see here.
Browse through our beautiful fairtrade home and gift section, fantastic needle felted hangings as well as brooches, hair accessories, bags and purses. Recently launched collections include our ferocious Dinosaurs, serene Sealife and friendly Farmyard animal hangings.
The products of Felt so good are all designed in the UK and produced in Nepal. We are fairtrade registered and follow a strong passion to support and promote an ethical practice to make sure that they are produced by skilled people whom are given a fair wage and good working conditions. We strive to spend time and money overseeing that these values are not only upheld but strengthened. We regularly go out to Nepal to introduce new designs and work with our amazing team to grow our company the way we want to. We use 100% wool, lovingly made into felt. The dyes are all none toxic and azo free.
The materials that we use are natural and biodegradable helping our planet in the long term for our future little ones.