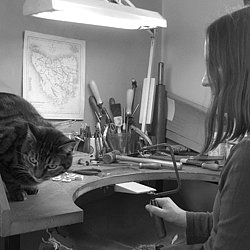 I created Faith Tavender Jewellery in 1994. I have always loved making jewellery. My inspiration goes all the way back to my childhood in Hobart Tasmania, particularly the visits we used to make to my grandmother's home. She lived in a Victorian house which was surrounded by a beautiful wrought iron lace veranda. Inside each room was full of amazing antiques and other collectables, all of these objects and the old building itself would help fire my imagination. As an adult I get the same sense of discovery and wonder from museum artefacts with the V&A in London being a favourite destination.
When I moved to England as a teenager I wanted to refine my making skills and after a Foundation Course in Art and Design I graduated from Sir John Cass, London with a BA (Hons) in Jewellery and Silversmithing.
Since then I have been designing and making jewellery for independent gift shops and galleries in the UK , France, Japan, USA and Australia. Collections have been bought for Barney's New York and Paul Smith, London. I have also had designs published in Jewellery Design - The Artisan's Reference by Elizabeth Oliver and The New Encyclopaedia of Jewellery Making Techniques by Jinks McGrath.
Now based in my lovely garden studio in London I am joined most days by my cat Penny (although she would love to help, she tends to just watch with interest). All my work is still designed by me and hand made in small batch productions. I use the most skilled master craftsmen in England for any specialist processes when needed.
I am passionate about making unique handmade jewellery to celebrate meaningful moments in people's lives. Jewellery that can be kept and treasured, just like the ones I found in my Grandmother's house all those years ago.
All my jewellery is packaged in branded midnight blue boxes and delivered free of charge by Royal Mail Special Delivery within the UK. I do offer delivery worldwide for a small charge. Free gift wrap options are available and I can send your gift direct to the intended recipient.
I hope you enjoy my jewellery as much as I enjoy making it.
Faith