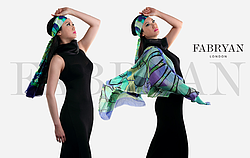 Already established as designers of distinctive womenswear. FABRYAN accessories range of luxury hand-finished silk scarves inspired by the beautiful and exotic flowers in Kew gardens as well as catalan architect Antonio Gaudí.
'Fabryan scarves are an indispensable accessory to every woman's wardrobe.'
Our original rich prints are made with pure silk yarned from silk worms and mulberry that are free from any pesticide. The silk is then digitally printed using non-toxic water based eco friendly inks. We are proud that our collections are designed and made in the U.K
The products are made in small quantities and never mass produced.