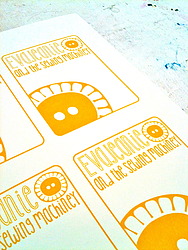 Evajeanie makes unique homewares and gifts that are embellished with designs that are handrawn in my sketchbook. A Designer/maker specialising in printed textiles and graphic design, from a studio in Northamptonshire. I love to mix charming old vintage fabrics with vibrant modern ones to get a really distinctive, comtemporary look to my work
As a designer my work is very illustrative and the techniques I have found that suits my style best are free motion embroidery and screen printing (sometimes both). I have always enjoyed drawing, painting and making things but am happiest when playing with fabric.
I graduated in 2001 with a BA (hons) in Graphic Communication, but with a thirst for knowledge and a desire to make, I studied part time whilst working as a freelance designer to build upon the sewing knowledge that had been passed on to me by my 'Granny Jeanie'.
I set up as a freelance designer in 2006 with the help of the Prince's Trust. I was then awarded 'Young Entrepreneur of the Year' by the Federation of Small Businesses and the Prince's Trust.The following year, I was lucky enough to be invited to meet His Royal Highness the Prince of Wales, I think this has definitely been the highlight of my career so far!
I was shortlisted at Make, Me and Do Awards for 'Best Storefront' by Not on the High Street.com in 2012.
My work is all hand made; hand drawn or machine sewn and silk screen printed by me in the studio. Each piece is carefully crafted with great attention to detail. Whilst pieces are often replicated, no two will ever be the same, making each a treasure for years to come.