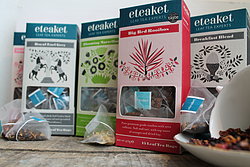 eteaket tea are leaf tea experts, dedicated to ethically sourcing exceptional loose leaf teas. We're on a mission to make tea exciting again, and to rekindle Britain's love affair with proper leaf tea. We regularly travel to places like China, India, Sri Lanka and Japan in search of the best leaves. We pack all our teas and tea-related products in Edinburgh and have won lots of awards, including numerous Great Taste Awards, voted Best Tea in the UK by the Beverage Standards Association, Best Tea Experience at the Lunch Business Awards 2013 and as of October 2015 are proudly part of the Ethical Tea Partnership.
We are excited to be able to offer a unique range of tea-related gift sets, including our tea party gift sets, sets for black tea lovers, iced tea gift sets and many more.
Gift wrap and personalised hand written gift tag available for all products.