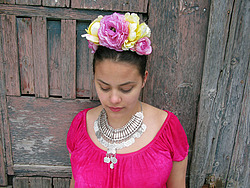 In Yoruba, Eni means precious gift. All of my designs are created to be long lasting keepsakes and treasured mementos.
For many years I had toyed with the idea of giving light to my creative background. I wanted to give it a chance to flourish, to try and work my life around a passion, so I packed a bag and headed East.
The root of Eni was inspired by my travels through India, witnessing first-hand the wonders of arts and crafts in a land steeped in history created by dexterously talented people.
2004 and Eni had sprouted! With the support and inspiration of the people I had met, and became close with, I was able to source and bring together a suitcase full of wonders and arranged them into collections, then going on to sell them at fairs back in the UK.
In 2006 Eni had blossomed and I opened a shop in South Molton Devon where I have been selling an eclectic mix of jewellery and accessories from my travels through far and mystic lands.
2009 and we were honoured to be shortlisted as finalist in the Independent Retailer of theYear Awards.
At Eni you will find jewellery that is a creative collaboration between skilled artisans that make my designs a reality, along with my own range of personalised jewellery and accessories as well as little surprises that catch my eye.
My personalised jewellery is a labour of love with each letter lovingly hand stamped with your message or initial in my tiny studio based in North Devon.
Eni
Everyone Needs inspiration!