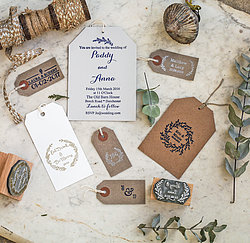 The English Stamp Company has been making stamps from our Dorset base since 1992.
We originally started out making stamps to print gold stars on walls to resemble hand-made wall paper. A huge range of designs were produced and sold all over the world. We have continued to develop our product range and now specialise in high quality, personalised rubber stamps. We can make stamps of virtually any design. Most popular are our 'Address' and 'Save the Date' stamps, but we can also make stamps from your own images or handwriting.
All of our stamps are made in our workshop in Dorset and we use hardwood English mounts from a sustainable source. Great for gifts or for your own use, our stamps give your cards and papers a unique and personal hand-made look.
Enjoy using The English Stamp Company's stamps!