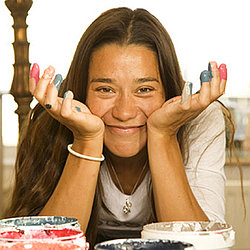 FUN - ALIVE - FRESH
Emma Nissim is a conscientious fashion and textiles artist, designing ethical active wear for comfort and ease. Central to her design ethos is the sustainability, versatility and the high quality of each garment.
Designed and lovingly hand printed in London by Emma, using eco-friendly binders and pigments, and carefully selecting only the softest fabrics with breathable and antibacterial properties.
Every print tells a story; Emma's art is transferred through prints to raise awareness, and to support animal welfare and environmental issues. Proudly supporting the World Land Trust.
50p from the sale of every garment will contribute to our goal to secure 5 Acres of the Amazon Rainforest.
Emma's vision is to create high quality, effortlessly stylish garments through sustainable production and socially positive actions.
The collection is much loved by those who do yoga, Pilates, dance and cycling. Or they just love the feeling of soft fabrics and being comfortable.
The London and Manchester Om Yoga Shows are testaments to Emma Nissim being one of the leading independent yoga brands, loved for its refreshing colours and print designs, and for what they represent.
Yoga celebrities such as Celeste Pereira proudly endorses the brand on her Instagram, and Meghan Currie says on one of her Instagram posts, "Emma Nissim is my favourite clothing artist".