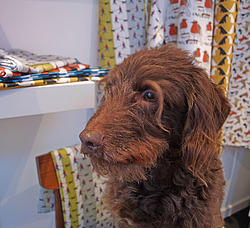 Emma Lonsdale produces charmingly different designs.
Emma works from her home studio in Cheshire. Using her original paintings and illustrations as a main starting point. Emma manipulates repeats and plays around with pattern. Each design produced is painted by hand before being printed onto natural cottons and made into products.
The dog walking collection was fundamentally responsible for launching the brand Emma Lonsdale. The signature series was inspired by Emma's interaction with fellow dog walkers when she and her miniature labradoodle Ruby took their early morning stroll. The simplistic design allows you to mix and match with various cushions in the range and play around with scale. The fabric is versatile and will inject colour into your home, whether it be a simple cushion to liven up an armchair or a cheeky tea towel that brightens up your kitchen. Available in the collection are aprons, tea towels and occasional reclaimed furniture.
We at emma lonsdale love everything British and are proud to say that all designs and products are made and printed here in the UK!
We also offer fine art prints and are continually working on new designs, so watch this space!