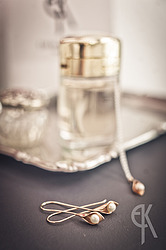 Emma-Kate Francis is renowned for designing exceptionally beautiful, romantic jewellery, handcrafted in her design studio and jewellery gallery in the heart of Cardiff, Wales. Emma-Kate & her team strive to make top quality pieces made with special care and attention to detail! Her mission is to create timeless and elegant investment pieces of jewellery that her customers can treasure, 'I wouldn't make it if I wouldn't wear it' she advocates. Emma-Kate is passionate about quality in design, materials, production and service. All pieces come beautifully boxed and ready to gift!
Emma-Kate hails from Brighton and is a classically trained silversmith with a MA from the Royal College of Art. After graduating, she met a Welshman in London and fell in love so decided to move to Wales in 2008 and set up her jewellery business. 'Wales is a rich source of inspiration with a great culture and natural resources' she enthuses. Her nature as a strong minded independent but hapless romantic is embodied in her style of jewellery she creates!
Her distinctive jewellery is inspired by Art Nouveau and uses traditional & modern techniques of wax carving, hand forging and CAD combining her love of pearls. The Emma-Kate prêt-a-porter jewellery collections comprise of uncomplicated classics, such as her signature collection Calla Lily, featuring sumptuous arrays of freshwater pearls and sterling silver, highlighted with rose gold.
The past few years has seen Emma-Kate collaborating with some of the most prestigious retailers and museums in the UK, designing pewter home ware for the Victoria & Albert Museum and jewellery for the highly acclaimed retail jewellers, Jersey Pearl, to bring her designs to a wider audience.
'I hope you love the jewellery and if you have any questions about a piece or want further information please do get in touch and we will endeavor to help you! with love Emma-Kate x'