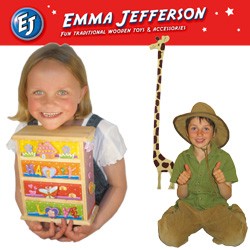 Emma Jefferson Limited, a family business, was established in 1992 by Charles and Emma Jefferson. All our inspiration comes from watching how our children and their friends play, what they enjoy and most importantly what they did not play with.
Our aim is to produce products that do not end up at the bottom of a toy box, if they are not being played with then they all make an attractive addition to any playroom or bedroom.
The wooden toys and accessories are manufactured abroad by dedicated companies who make to a high standard and are ethically based both in materials and production methods.
With 20 years experience you can rely on us for service and quality. We look forward to hearing from you.