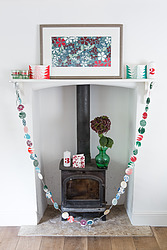 I work as a printmaker and painter producing artwork for your interiors. I produce limited edition prints, commissioned paintings, greeting cards and a fabric range, all proudly produced in the UK.
The majority of my work is carefully designed and silkscreen printed by me at my studio based in the old Bird's Custard Factory in Birmingham. My work is mostly inspired by nature and botanicals from walks around the Midlands and sketching in the garden. However, I also love living in the city so the harder urban surroundings also feature in my designs.
I want to create a distinctive style that people will love to have in their home, giving a timeless quality that works with both modern and classic interiors.