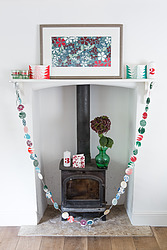 Emma began her business in 2009 from a Summer House in the garden. After studying a BA in Textile Design and working as a studio photographer, she decided to explore her creative talents fully. Emma began painting abstract landscapes to exhibit in galleries, before moving into her favourite medium of print. Inspired by the flowers right outside her window she began creating fresh, contemporary pattern based floral designs, screen printing these highly collectable limited editions by hand.
After several years spent building a loyal customer base, Emma moved to her studio in The Custard Factory in Birmingham, and the business is now thriving! She now has the added influence of the city surroundings and so created a range of striking architectural cityscapes, filled with pattern and structure, as well as recognisable landmarks. Emma also still produces landscape oil paintings, several of which are available as high quality Giclee print reproductions. As Emma utilises the best qualities of whichever medium she works in, you can see a marked difference in style between Screen Prints and Oil painting. But with an underlying theme of pattern and form throughout the entire range.
Our aim is to create exciting pieces of art which do more than just brighten up a room. They will evoke memories, spark conversation and become a well loved part of your home. Everything is made by us, in house at our studio. Meaning we are able to proudly say all our products are made exclusively in the UK.