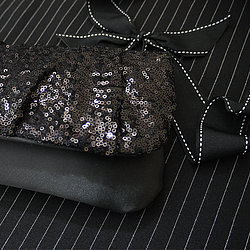 Designer/Maker Emma Gordon set up 'Emma Gordon London' in May 2003.
She set out with the idea of selling special handcrafted bags all made by her. She was tired of only being able to buy mass-produced goods that were being worn by thousands of other people too. It seemed that if she wanted to buy something a bit unique, there was a high price tag attached too.
She began by setting up a small stall on Spitalfields Fashion Market in London's East End. Here, she was approached by several boutiques that wanted to stock her bags - this led to a few pieces of valuable press.She started to get more and more interest for her designs so decided to leave the market and set up her own website.
She has never looked back and is now selling to boutiques around the world, including the USA, Singapore, Hong Kong, Portugal and New Zealand.
All her bags are made from wool, velvet and canvas fabrics, trimmed with lingerie trims and decorated with cute details such as covered buttons and bows. Each bag is lined with special printed cotton.
Her designs are quirky, fun and always ladylike! Whether lunching with the girls or dancing the night away, you'll find a bag for every occasion in this girly collection.