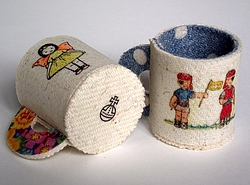 Harris Tweed decorative gifts inspired by classic ceramic design, nostalgic textile print and vintage children's illustrations.
Emma uses an eclectic recipe of 20th century design classics, finest quality British fabrics and a playful nostalgia to lovingly hand craft each piece in her studio in Yorkshire, England.
'Harris Tweed is the cloth that has been handwoven by the islanders of Lewis, Harris, Uist and Barra in their own homes, using pure virgin wool that has been dyed and spun in the Outer Hebridies.' This is the definition of Harris Tweed contained in the Harris Tweed Act of 1993, and it ensures that all cloth certified with the Harris Tweed Orb symbol complies with this definition, and is genuine Harris Tweed, the world's only commercially produced handwoven tweed.
Emma sources her Harris Tweed direct from the weavers and the mills on her regular trips to the Outer Hebrides.
Drawing influences from the design clutter she surrounds herself with, Emma uses traditional techniques such as embroidery and needlefelting, combined with innovative print methods.