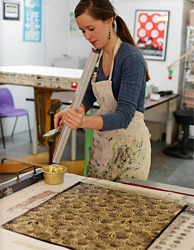 Emily Bucknell's printed textiles collection has originated from her personal drawings inspired by intricate patterns in nature. All of Emily's designs are screen printed and sewn by hand in her studio in Macclesfield, Cheshire. The range includes lampshades, cushions, limited edition screen prints, lavender bags and gift cards all made to the highest standards. The products are also kind to our planet by using everything from water based inks to fair-trade organic fabrics.
Emily graduated in Fashion and Textiles with Business studies from the University of Brighton, England in 2006. After finishing her degree, Emily has worked as a freelance textile designer, including within a home buying department for a major UK retailer and since set up her studio in Macclesfield, Cheshire
Emily exhibited her work at the East London Design Show in December 2011, where her stand was awarded "Best in Show". She has continued her freelance work, and last year was commissioned to design a sleeve for a record called "Birds" and to screen print fabrics for the Kylie Minogue tour.