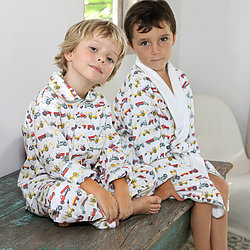 Em&Lu, a Children's Nightwear and Accessory company, was born through a desire provide customers with nightwear in our own exclusive prints, designed to appeal to both adults and children, focusing on a return to innocence and imagination. Age range is from newborn to ten years old.
The Collection is made up of Towelling Lined Dressing gowns and Pyjamas, Duvet Covers and a Wicker range for the Bedroom, Bathroom and Baby Accessories which include Vests, Sleep Dresses, Hooded Towels and Change Mats.
Themes such as Dinosaur, Tractor, Circus, Ballerina and Blossom have been created in house and hand printed creating images in soft delicate tones, and tailor made in classic styles to ensure little angels look their best at bedtime.
Em&Lu fabrics are hand printed in Bali, Indonesia, using traditional screen printing techniques, giving the product a handpainted feel. All items are 100% Cotton and wash beautifully so can be passed on down through the familly.
Attention to detail is key to the collection; piping, frills, little pockets for little hands as well as shell buttons are featured throughout the range.
Em&Lu nightwear is the perfect gift for Grandparents and Godparents to spoil their loved ones with.