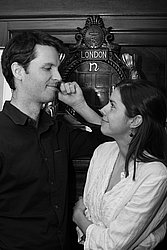 At Elvis & Kresse we are constantly thinking about waste. The instant we met the London Fire Brigade we fell in love with their old hose. We scrubbed away all the soot, grease, and everything else that builds up after 25 years of active duty, and in the process discovered a truly remarkable, truly green textile.
All Elvis & Kresse items are hand-made and unique. The hose itself is weathered and marked, the ridges and grooves of a long life are self-evident and no two reds are the same. Some products may have the details of their extrusion and others may bear the name of the company that makes the hose. Although they started in London, Elvis & Kresse now collect hose across the UK, and in order to thank Britain's Brigades 50% of Fire-Hose profits go to the Fire Fighter's Charity.
Elvis & Kresse also use other reclaimed materials in their range. Coffee sack is combined with fire-hose accents, bags and wallets are lined with reclaimed military grade parachute silk and racing sail cloth. The packaging is also reclaimed: tea sacks, coffee sacks sail cloth and parachute silk. Elvis & Kresse make honest, genuine, practical pieces; from the belt you leave on your favourite jeans to the bag you couldn't leave home without. Elvis & Kresse is tradition, re-engineered.