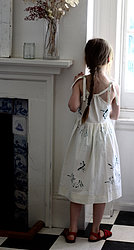 A few years ago I was given some antique linen sheets. Some of it them were well used and others were untouched; in perfect condition. The linen, however, had lost its value as the owner had no need for it or means to store it.
It became clear that it needed a new lease of life and purpose again. Drawing on my passion for textiles and the conventional ways that linen has been used through the centuries, I have dedicated my time to restoring this incredible fabric into practical, beautiful and unique pieces again.
Each pattern is made one a time, by hand and inspired by 1930s feed sacks and nature. I screen print these patterns to give the feel of movent and life in each fabric.
Linen sheets were given as part of a dowry or trousseau and were vital for the home. They were thus precious and pratical. So to carry on this tradition, after printing unique patterns on it, I cut the fabric and intricately piece it together, to up cycle it to include orginal features or handiwork and make sure none of it goes to waste.
Ellies heirlooms are one off treasure pieces but made to be used everyday. With that, each piece carries a small mention as to where it has come from written on the label, so it can continue being passed on and on.