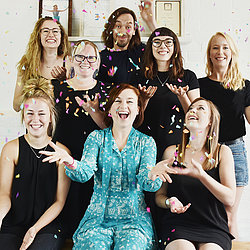 Ellie Ellie is a multi-award winning British brand, offering unique jewellery, gifts and homeware for one-of-a-kind people. We offer products that are personalised, witty and innovative, to raise a smile and create happy moments with your loved ones.
We believe in celebrating the individual, allowing our customers to personalise products in a way that reflects their own style- whether they want to add an engraving to the back of a pendant, a nostalgic map location or a monogram to a mug.
Proud of our British heritage, many products are sustainably designed and made in our Sussex HQ, allowing us to create the special gift you've dreamed of, with love and skill. Whether you are on the hunt for something unique for Father's Day, Mother's Day, Valentine's or even Christmas gifts, you'll be sure to find something new to delight!
We are proud to offer all our UK customers FREE returns as well as a Click and Collect service from our Ellie Ellie HQ in Hove, for all our local customers.
** Winner ' Fastest Growing Business' Brighton & Hove Business Awards 2016**
**Finalist Notonthehighstreet.com Best Customer Service 2015**
** Finalist 'New Kids on the Block' Brighton & Hove Business Awards 2015**
**Winner Notonthehighstreet.com Entrepreneur Of The Year 2014**
**Winner Notonthehighstreet.com Business Advice Award 2014**
**Winner Woman Of The Year Awards Online Business 2014**
**Featured partner in 'Shape Up Your Business' Book by Sophie Cornish and Holly Tucker Co-founders of Notonthehighstreet.com**