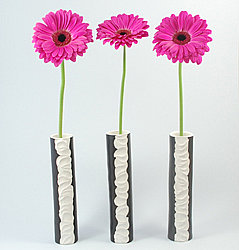 Ellen has a degree in Contemporary Decorative Crafts and is currently working from her garden studio in Hertfordshire.
Ellen's range of striking black and white ceramics are created using hand built and thrown stoneware. The colours, textures and patterns are inspired by the effect of air erosion inside glacier ice caves. The monochrome colour scheme draws attention to the beautiful flowing carving, allowing the play of light and shadow to enhance the simple elegance of the design.
The tactile quality of the collection is as important to Ellen as the visual; the smooth, subtle surface of the burnished black slip perfectly compliments with the glossy white glaze. Each vase or bowl is hand made and hand carved, so you can have a unique piece to admire, hold and treasure.
The collection also includes a selection of small handmade ceramic pieces, such as buttons and brooches which make lovely gifts.