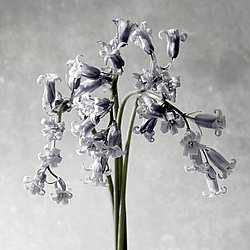 Elizabeth Vickers has started a new venture combining her love of photography in antiques and flowers. She is able to make her flowers look timeless - almost like a painting. In fact many people refer to her images as paintings rather than photographs.
She is a fine art photographer having worked at Christie's for many years before going freelance to do interior work, gardens and books like St George's Chapel, Windsor and Alexis de Rede, 'The Memoirs of Alexis' Paris.
Her love of flowers, plants and gardening were explored when she worked for gardening magazines but the early morning did not work so well with a young family. Now, helped by her using a rag rolled paper which makes the photographs look more like watercolours. Elizabeth uses the highest quality of printing methods in giclee printing, to bring out the finest detail of her work.
Elizabeth holds exhibitons of her work and also works as a fine art and portrait photographer.