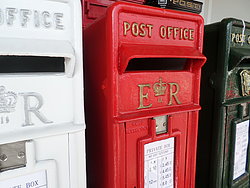 As small family business Elizabeth and Stevens are showcasing our vintage style post boxes in four colours. In gorgeous red, scottish blue, Irish Green and a sophisticated black.
These wonderful vintage style post boxes evoke a bygone age and not only have an authentic feel but a very practical use, perfect for everyday post and small packages.
Post Boxes from all eras are a traditional site in our villages and towns and we wanted to create that feeling of timelessness,to evoke the quintessential Englishness of that look by reproducing these iconic postboxes.The business has grown and we now send these post boxes around the world
Manufactured using a hand cast iron front and a steel back,they are sturdy and weigh about 19KG plus ,and each is hand painted -we introduced for our Irish friends, the green colour and the blue for our Scottish pals with a crown logo for the blue and a harp logo for the green.
The V R post box has two doors, and can be built into a gate post or wall where access is needed from both side.
These post boxes are deliberately finished to give a vintage look and have patinations and undulations that evoke that bygone look- excellant quality ,they are built to last.Each post box has a front door and we provide a set of two keys.
Our post boxes make excellant gifts for a special day, birthday or event , and are an appreciated addition ,not only for their practicality ,but also because they look so wonderful.