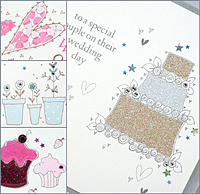 Hello and welcome to Eggbert & Daisy.
We are a small company, working from a former milking parlour on a Cheshire farm in the North West of England. Here we design, print and hand-finish a collection of elegant and original greetings cards, stationery and keepsakes.
We use a selection of gorgeous materials, which includes the finest quality boards, beautiful sequins and sparkling crystals. We also make many of our own embellishments, meaning that our products really are unique. We are also pleased to introduce a selection of card designs that can be personalised just for you.
We are very proud of the fact that we design, print and hand-finish all of our products ourselves, with the help of our small team, which now includes our gorgeous Basset Hounds, Humphrey & Olive (aka Eggbert & Daisy).