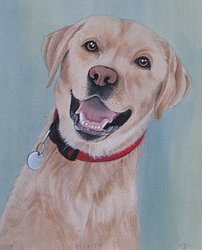 My background is in textile design and I was lucky enough to work for many years as consultant designer for Liberty. However I have come to realise that the reaI joy of my life is painting, whether it's on fabric for my cushions or on canvas or paper for my pet or house portraits. I don't mind how much time I spend on my paintings as long as I'm satisfied that they are the very best I can do when they leave my studio.
I started producing my range of bespoke hand painted cushions when we moved to the Isle of Wight. The Island is such a beautiful place and I don't have to look far to find inspiration, there is so much on the seashore and in the wild countryside.
All of my products are custom made to order and I love the diversity that every commission brings. Not On The High Street provides the perfect outlet for me as it allows me to work closely with my customers and ensure they have exactly the level of personalisation they want.
This is particularly true of my pet portraits. It gives me such pleasure to create a painting, that I know from all their wonderful messages, my customers will cherish.