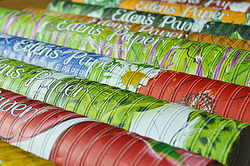 Every year in the UK, tonnes of paper waste is generated from people throwing away used and torn wrapping paper after Birthdays, Christenings, Valentine's days, Anniversaries and many more special occasions. In 2012, enough used wrapping paper was thrown away after Christmas in the UK that it could have wrapped around the world nine times. That is A LOT of waste, and this is the problem that Eden's Paper solves.
Eden's Paper is 100% plantable wrapping paper. So instead of throwing your wrapping paper in the bin, you can now plant it to grow things like broccoli's, onions, chillies, carrots and tomatoes! How cool is that?!
In just 4 months, Eden's Paper has grown from an idea into a phenomenon, and the rest is history! The product has been broadcast all over the US to 90 million households via Fox News, showcased via French National Radio Stations and featured in National UK newspapers. So far, our PR has reached over 300 million people, not bad hey?
We have been featured on the world's biggest blogs and have had enquiries from Canada, the USA, France, Sweden, Norway, Denmark, China, Australia and many more countries.