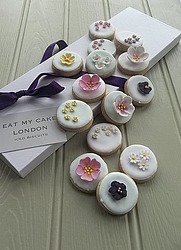 With an art school background and more than a passing interest in food I have very fortunately grown a business that combines the two. I founded Eat My Cake London in 2010 and have been custom making iced biscuits for the good people of London (and occasionally beyond) for their product launches, events, promotions and weddings, I have now put together a selection of 'off the peg' gift biscuits.
With an emphasis on good ingredients and a steady piping hand, I can now offer a new range of delicious, exquisitely iced biscuits which I'd like to think combine taste and mild wit!
If you are looking for a gift, have a look at my store, as it has been said "most people like biscuits, so you can't go too wrong".
Thats enough about me, I'd like to hear from you!
Sarah x