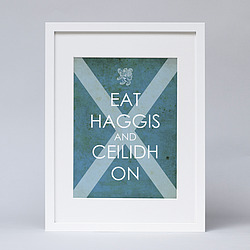 Eat Haggis is a quirky range of design led products, with a strong sense of humour, that celebrates with pride all the best things about Scotland.
I wanted to create work which captures a sense of Scotland but does so in a modern contemporary way that will also make the recipient smile. I have produced a whole assortment of products from fine art prints to aprons, tea towels and mugs. Where possible I get all the products made in Scotland from as local and ethical a source as I can find. As an architect by day I've got a bit of an obsession with details and so everything is made to the highest quality and standards.
They make great gifts for both home Scots and our extended ex-pat family around the world. I've been enjoying collecting photos from happy customers from all around the world and have photos of people wearing Eat Haggis products from everywhere from Thurso to Thailand.
Best wishes
Allistair
'Eat Haggis and Ceilidh On' is a trademark of Allistair J Burt