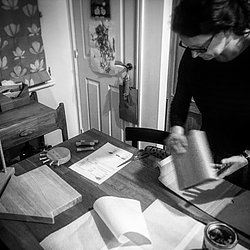 We started our journey at the bottom of our garden in a little timber shed not long after Sarah fell pregnant for the first time. We needed a way that Joe could use his skills as a design teacher and make a little extra that would help when Sarah gave up work. So we set about forming Earthome.
We came up with Earthome as it combines our surnames Earley and Thomas (Sarah's maiden name). It also sounded like what we wanted to do which is make beautiful natural products for peoples' homes. We got up and running one Saturday morning after we had a delivery of off cut timber from a local timber merchant. At the point where Joe was trying to think of how to use it Sarah asked Joe 'would you like some toast for breakfast?' and Breadboard was formed, which turned out to be our first hit product that started our new venture.
Our day starts after we put our children Tom and Lyra to bed, Joe sets about designing and making our range of hand made personal gifts and Sarah starts to oil and package all your lovely orders and answers your enquiries. She also orders all our beautiful oak and picks it up on her way to the to the playground in our faithful old VW van.
Our latest recruits, Tom and Lyra are keen enthusiasts of standing on the card packaging, hiding the tape measure and have a speciality in spilling the oil. We make a great team and take great pride and happiness in fulfilling your orders.
Thank you for enjoying our creations.