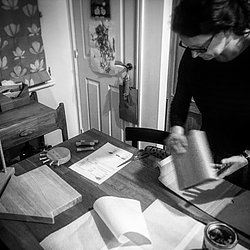 Earthome is a small family business based in the UK, near Colchester in Essex. Joe Earley (our Design and Marketing Director) completed a Masters in Furniture Design at Buckinghamshire University and a BA(hons) in furniture and product design at Ravensbourne College of Design and Communication.
Joe is a passionate furniture designer with a strong focus on social fairness and the environment. Sarah Earley (married to Joe, is our Sales and Logistics Director) completed a Degree in Marine Biology at Essex University. Sarah, also passionate about the environment, always has a smile on her face, she has a personable approach to sales and provides effective systems to improve efficiency.
At Earthome we create our own designs for quality built solid timber furniture, gifts and accessories. We aim for our products to be manufactured responsibly, minimising their environmental impact. We design and make our furniture gifts and accessories here in Colchester and we also offer a bespoke design and make service.
We hope you will love Earthome's furniture designs, gifts and accessories and appreciate the level of detail that goes into the production cycle in order that you can feel content in your choice of purchase that in a small way you have helped towards making the world a more environmentally responsible place.