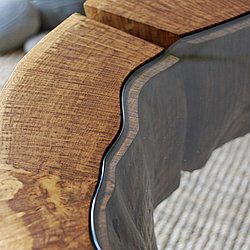 We are a design partnership running a small workshop producing a wide variety of craft based products. My partner, Samantha Drewett and I, Richard Zakss, met whilst studying furniture at High Wycombe and have been working together since 2004. Much of our work is making one off commissioned pieces of furniture from a mixture of locally sourced timber, interesting new materials and old reclaimed bits and pieces.
Being very waste conscious has led us into using every possible bit of our surplus materials in a more creative and productive way rather than sending it to landfill. This has grown over the years to us collecting old, redundant and unwanted pieces of furniture, taking them apart and re-using or re-working components to make unusual but modern pieces. This is an exciting process where design is based around available materials which helps add to the pieces unique charm.
The nature of our work means that most pieces are individual, even reproduced pieces will each have their own unique twist. We are keen to share our passion with others and like demonstrating the positive things that can be done with other peoples supposed junk.