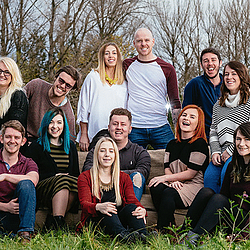 *Shortlisted for Notonthehighstreet 'Start-up Success of the Year 2015'*
We at Dust and Things love nothing more than making beautiful, design-led, personalised gifts for special occasions. We give each item the same level of focus and attention - each gift is designed individually, meaning we do not restrict on the number of characters, words or sentences. We always do our best to make gifts that are truly unique whilst working to your specifications.
Dust and Things was created by Sian-Louise and Mike Chamberlain in the summer of 2013. From its humble roots in a spare bedroom in Cardiff, our company has grown into the business we always dreamt of. We are proud to be a specialist in our area of bespoke engraved gifts and feel fortunate that we get to help so many lovely customers be great gift-givers every day!
Why 'Dust and Things'? - One day in a dark, cluttered shop in a Cardiff arcade, Sian-Louise had uncovered a trove of vintage childrens books, the pages of which she intended to re-work into useable envelopes. Walking outside, grinning, she concluded - 'the shops that have the hidden treasures are always the ones that are full of dust...and things.'