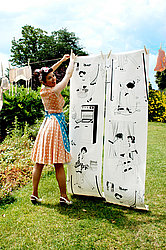 Dupenny is an illustrator and pattern designer who specialised in exceptional design and content for projects of every kind. She also produces her very own range of exquisite wallpapers and gifts featuring her work.
On a mission to make the world smile, the inspiration for Dupenny's designs comes from her hobbies and love, including retro interiors, 50s fashion, swing/jive, poodles, tattoos, low-budget horror, e-types, tea and cakes!
Every Dupenny product is made with love and care from start to finish. Designs are initially hand-drawn before being finalised on a computer. All wallpapers are digitally and can be customised to your requirements.
Dupenny believes in fun design with a conscience. Wherever possible, sustainable materials and methods are used.
I hope you like my products!